After World War II, it has been common practice in Japan to cremate people when they die. Their ashes were placed in an urn and the urn was buried in a grave.
In Christianity, cremation is not so common because it is thought that "people will be resurrected after their death". Buddhists believe that when someone dies "they will be reborn again as something else". That's why they are cremated.
Of course, even now, the point of cremation after death has not changed, but the process regarding where and how the ashes are interred has changed in the last 20 years or so.
 In the past, graves for the internment of ashes were owned by "family" units, but now more and more people do not have graves because they may not have any relatives, they are difficult to clean and maintain, and are expensive.
Also, an increasing number of people who originally had a grave are choosing to close them for the same reasons.
What will those people do in the future when a member of their family dies?
For some time, there has been a form of "eternal memorial tower" to intern the ashes that can be used inexpensively by individuals, but in the last few years, other methods such as opting for a "tree burial" or "scattering the person's ashes" in a memorable location have increased rapidly.
These are modern, practical ways for remembering loved ones that are low maintenance and keep costs down for individuals, who may not have other family members they would like to be buried with.
Myoukyouji temple also offers a practical solution. We can create a small grave called a "Bone memorial tablet" for loved ones.
A small urn containing some of the person's ashes is stored in the memorial tablet, which we then carefully protect as a small grave.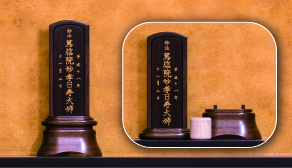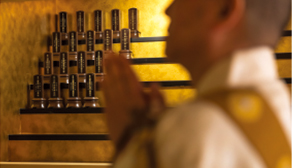 Costs starts from 120,000 yen.
You don't have to worry about your relatives. We will hold a memorial service at the temple for the deceased for a long time.
When visiting the grave, people should go to the main hall of Myoukyouji temple, and they will be able to take their time to pay their respects in a tranquil environment.